Enjoy the "Taste of Kyoto"
Kamanza is located at Ninenzaka which leads
past Yasaka Shrine and Kodai-ji Temple towards Kiyomizu-dera Temple.
Kamanza serves traditional foods of Kyoto such as Yuba, Nama-fu, and Tofu
in addition to a wide variety of
tempura, noodle, and rice bowl dishes.

We invite you to visit us while you explore Ninenzaka.
A New Taste of Kyoto, To Go!
We sell daifuku (rice cakes) and mitarashi (dumplings with sweet soy sauce glaze) made with nama-fu (wheat protein). This is a wonderful way to experience the flavors of Kyoto.
We also have fresh and healthy Kyoto matcha tea made with no preservatives available for take-out. Why not grab some to enjoy while you walk around Kiyomizu-dera Temple?

The Maiko Show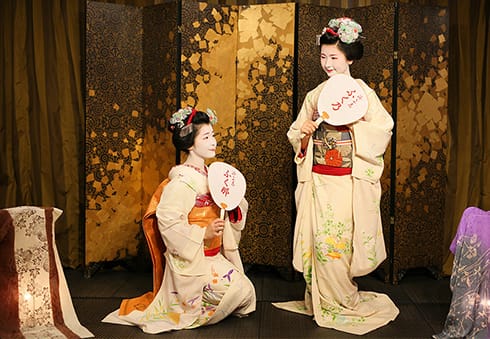 A special experience which brings you up close and personal with a Maiko.
Created to offer a casual experience
that allows you to interact with a Maiko in an intimate setting.
During this show, you will have the opportunity to watch a Maiko from Kyoto Higashiyama Miyagawacho perform
as well as take pictures and eat with her.
You can relax at the low tables and chairs
which give the sense of enjoying the performance in a traditional tatami room atmosphere.
You can view a movie by going to the link above
Inquiries
TEL.075-531-1719
【Weekdays】11:00 am ~ 4:30 pm
【Weekends and Holidays】11:00 am ~ 6:00 pm
【During Light Up Periods】11:00 am ~ 8:30 pm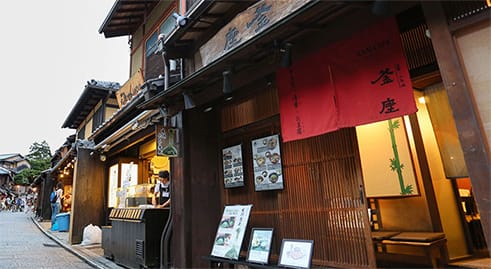 Address

605-0826
363-12 Masuyacho Kodaiji Minamimondori Shimokawara Higashi Iru, Higashiyama-ku, Kyoto-shi, Kyoto-fu

TEL.

075-531-1719

Access

A 15 minute walk from Gion-shijo Station
A 5 minute walk from the Kiyomizu-michi or Higashiyama Yasui bus stops

Parking Lot

N/A (Use the parking lot for Kodai-ji Temple. ※One minute walk・unaffiliated)